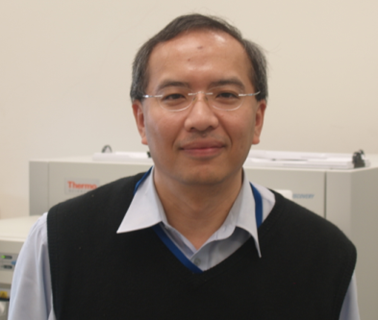 專長
產業生物技術、蛋白質體學,蛋白質化學,轉譯醫學,質譜技術,哲學
辦公室
圖資大樓 六樓 R645 室
電話
886-2-2826-7119
研究方向
Biomarker research:
(1) Identification and verification of plasma protein modifications as biomarkers of major human diseases. Examples include markers for ovarian cancer and breast cancer.
(2)Identification and verification of plasma protein complexes as disease biomarkers. Recent major progresses include markers for lung cancer, liver cancer, breast cancer, Alzheimer's disease and more.
Biomarker research:
(1)Development of cocktail therapy for infections caused by viruses, such as enterovirus 71, influenza virus and hepatitis B virus.
(2)Protein signature changes in pharmacodynamics assays will be identified and verified using cell architecture-based protein interactomics.
研究著作
Lo CH, Lin IH, Yang TT, Huang YC, Tanos BE, Chou PC, Chang CW, Tsay YG, Liao JC, Wang WJ. (2019) Phosphorylation of CEP83 by TTBK2 is necessary for cilia initiation. J Cell Biol. 2019. Aug 27. pii: jcb.201811142. doi: 10.1083/jcb.201811142.
Chen YS, Chang CW, Tsay YG, Huang LY, Wu YC, Cheng LH, Yang CC, Wu CH, Teo WH, Hung KF, Huang CY, Lee TC, Lo JF. (2018) HSP40 co-chaperone protein Tid1 suppresses metastasis of head and neck cancer by inhibiting Galectin-7-TCF3-MMP9 axis signaling. Theranostics. 8(14):3841-3855
Chang CW, Chen YS, Tsay YG, Han CL, Chen YJ, Yang CC, Hung KF, Lin CH, Huang TY, Kao SY, Lee TC, Lo JF. (2018) ROS-independent ER stress-mediated NRF2 activation promotes warburg effect to maintain stemness-associated properties of cancer-initiating cells. Cell Death Dis. 9(2):194.
Chiu HY, Tsay YG, Hung SC. (2017) Involvement of mTOR-autophagy in the selection of primitive mesenchymal stem cells in chitosan film 3-dimensional culture. Sci Rep. 7(1):10113.
Li LH, How CK, Kao WF, Chiu YH, Meng C, Hsu CC, Tsay YG. (2017) The impact of hepatitis B carrier on cardiac troponin I in 100-km ultramarathon runners. J Chin Med Assoc. 80(6):347-352.
Yu YT, Chien SC, Chen IY, Lai CT, Tsay YG, Chang SC, Chang MF. (2016) Surface vimentin is critical for the cell entry of SARS-CoV. J Biomed Sci. 22;23:14. doi: 10.1186/s12929-016-0234-7.
Li JJ, Lan KL, Chang SF, Chen YF, Tsai WC, Chiang PH, Lin MH, Fischer WB, Shih YS, Yen SH, Liu RS, Tsay YG, Wang HE, Chang CA. (2015) Development and Characterization of the Recombinant Human VEGF-EGF Dual-Targeting Fusion Protein as a Drug Delivery System. Bioconjug Chem. 26(12):2481-96.
Liu NY, Lee HH, Chang ZF, Tsay YG*. (2015) Examination of segmental average mass spectra from liquid chromatography-tandem mass spectrometric (LC-MS/MS) data enables screening of multiple types of protein modifications. Anal Chim Acta. 892:115-22.
Huang CY, Chen WM, Tsay YG, Hsieh SC, Lin Y, Lee WJ, Sheu WH, Chiang AN. (2015) Differential regulation of protein expression in response to polyunsaturated fatty acids in the liver of apoE-knockout mice and in HepG2 cells. J Biomed Sci. 22:12.
Weng RR, Shu HW, Chin SW, Kao Y, Chen TW, Liao CC, Tsay YG, Ng WV. (2014) OMICS in ecology: systems level analyses of Halobacterium salinarum reveal large-scale temperature-mediated changes and a requirement of CctA for thermotolerance. OMICS. 18(1):65-80.
Weng RR, Chu LJ, Shu HW, Wu TH, Chen MC, Chang Y, Tsai YS, Wilson MC, Tsay YG, Goodlett DR, Ng WV. (2013) Large precursor tolerance database search – a simple approach for estimation of the amount of spectra with precursor mass shifts in proteomic data. J Proteomics. 91:375-84.
Chen YF, Chang CA, Lin YH, Tsay YG. (2013) Determination of accurate protein monoisotopic mass with the most abundant mass measurable using high-resolution mass spectrometry. Anal Biochem. 440(1):108-113.
Huang C, Jiang JY, Chang SC, Tsay YG, Chen MR, Chang MF. (2013) Nuclear export signal-interacting protein forms complexes with lamin A/C-Nups to mediate the CRM1-independent nuclear export of large hepatitis delta antigen. J Virol. 87(3):1596-604.
黃彥鈞, 蔡有光 (2013) 從分子生物學的定義談起. 科學月刊. 44卷1期 119-125頁
Chang CA, Wang IF, Lee HY, Meng CN, Liu KY, Chen YF, Yang TH, Wang YM, Tsay YG. (2012) The formation stability, hydrolytic behavior, mass spectrometry, DFT study, and luminescence properties of trivalent lanthanide complexes of H2ODO2A. Dalton Trans. 41(48):14697-706.
Chang YH, Lee SH, Chang HC, Tseng YL, Lai WW, Liao CC, Tsay YG, Liao PC. (2012) Comparative secretome analyses using a hollow fiber culture system with label-free quantitative proteomics indicates the influence of PARK7 on cell proliferation and migration/invasion in lung adenocarcinoma. J Proteome Res. 11(11):5167-85.
Huang YL, Chung TW, Chang CM, Chen CH, Liao CC, Tsay YG, Shaw GC, Liaw SH, Sun CM, Lin CH. (2012) Qualitative analysis of the fluorophosphonate-based chemical probes using the serine hydrolases from mouse liver and poly-3-hydroxybutyrate depolymerase (PhaZ) from Bacillus thuringiensis. Anal Bioanal Chem. 404(8):2387-96.
Lai JH, She TF, Juang YM, Tsay YG, Huang AH, Yu SL, Chen JJ, Lai CC. (2012) Comparative proteomic profiling of human lung adenocarcinoma cells (CL 1-0) expressing miR-372. Electrophoresis. 33(4):675-88.
Chuang HH, Yang CH, Tsay YG, Hsu CY, Tseng LM, Chang ZF, Lee HH. (2012) ROCKII Ser1366 phosphorylation reflects the activation status. Biochem J. 443(1):145-51.
Shih YY, Nakagawara A, Lee H, Juan HF, Jeng YM, Lin DT, Yang YL, Tsay YG, Huang MC, Pan CY, Hsu WM, Liao YF. (2012) Calreticulin mediates nerve growth factor-induced neuronal differentiation. J Mol Neurosci. 47(3):571-81.
Shih YY, Lee H, Nakagawara A, Juan HF, Jeng YM, Tsay YG, Lin DT, Hsieh FJ, Pan CY, Hsu WM, Liao YF. (2011) Nuclear GRP75 binds retinoic acid receptors to promote neuronal differentiation of neuroblastoma. PLoS One. 6(10):e26236.
Liao KA, Tsay YG, Huang LC, Huang HY, Li CF, Wu TF. (2011) Search for the tumor-associated proteins of oral squamous cell carcinoma collected in Taiwan using proteomics strategy. J Proteome Res. 10(5):2347-58.